Good for me, good for you!  Today's post is another healthy living post, which I am trying so desperately hard to do!  I found this recipe for Morning Glory Muffins on my favorite, of course, allrecipes.com.  It is fantastic!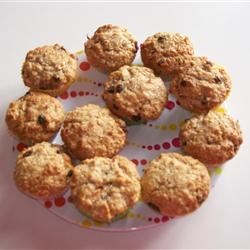 And why is it good for me and good for you?  Well, it is full of:
carrots, great for vision, and lowering blood cholesterol

wheat flour, packed with calcium, iron, and fiber

cinnamon, there are too many reasons why this may be good for you to list, so go check

this link

out yourself :)

apple and apple butter, one a day keeps the doctor away, right?? 

check this out

eggs, great source of protein and vitamins
about 150 calories per muffin of all that goodness (I yielded several more than the recipe called for and made a few alterations)
Not to mention, it tastes wonderful!  My alterations: I used craisins instead of raisins because we just prefer them around this house and I only added one TSP of vanilla instead of a TBSP, by accident really, but it didn't hurt the flavor at all.  I would still put a full tsp in next time.  Also, I did not do the nut/wheat germ topping because I was too lazy and they looked just fine the way they were!
This really reminds me of a recipe I think my mother made while I was growing up and I am sure I HATED them back then.  I don't remember eating them, I just remember seeing them, and probably wishing they were brownies. :)  Alas, a lot has changed since then and I think this is an excellent breakfast or snack muffin.  Great on the side at dinner too!